Ghanada by Premendra Mitra
Introduction in 'Mosquito and Other Stories' by Amlan Das Gupta – Part 2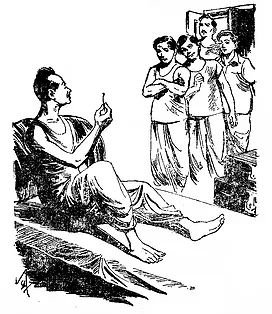 Though written for young people, the Ghanada stories were popular with readers of all ages from the very beginning. The stories combined science, travel, adventure, and fantasy, making them unique in Bengali fiction.
'Fantasy' is a dangerous word to use, though in spite of Ghanada becoming synonymous with tall tales, there is little in the stories that do not stand up to the test of reason or fact while also sharply upon topical interests.
The editor of the Ananda Publishers edition of the Ghanada stories points out that 'Mosquito', set on Sakhalin Island, appeared when the fate of the island was very much in the news, and its ownership was being arbitrated immediately after the conclusion of the Second World War.
Ghanada on the Mount Everest
Even more dramatic is the setting of 'Hat' ('Tupi'), in which Ghanada is dragged over the peak of Mount Everest by a runaway yeti. The story refers to the failure of the Swiss expedition of 1952 but speaks of the mountain being as yet unconquered. Hillary and Tenzing reached the summit in the summer of 1953. Evidently the story was written in the few months between the two ventures, at a time when public interest in Everest expeditions was at its height.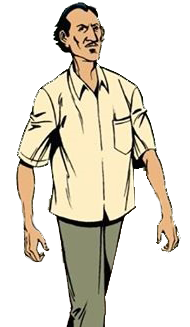 Many of my generations learned about the orang-pendek and Schistocerca gregaria (desert locust) from Ghanada. By then he was already a classic, anthologized and reprinted in various collections.
He represented something unique even among the rich fare of 'children's literature' that we had for our delectation: Narayan Ganguly's Tenida stories, the anarchic tales of Shibram Chakravarti (the model for 'Shibu' in the Ghanada stories), not to mention the annual offerings from the College Street and Jhamapukur publishing houses.
What must have appealed to us about these stories then, now I realize, was the absence of any apparent didactic intent. The exotic settings, the audacious inventiveness, the sheer power of the narratives were what counted.
It was important that unlike much other fiction for the young, the characters are adult, thus affording an entry into a grown-up world. As Ghanada hectored his speechless interlocutors about the witch doctors of Africa or about flying saucers, we felt we were participants in the adventure or experience and not merely a member of the passive audience.
This article was originally written by Amlan Das Gupta, we may have edited for style and length.