This website was created by Dilip K. Som and is not copyrighted. Feel free to use any of the materials on this website.
We are not the copyright holders of any of the materials [illustrations, articles etc.]
displayed in this website. It is not a commercial venture.
This is a modern rendition of Saurabh Datta's first website on Ghanada – Ghanada Gallery
Ghanada Club Was reopened on sep 15, 2019
at 90 Muktaram Babu Street, Jorasanko, Kolkata
(4 mins walk from Mahatma Gandhi Metro Station)
Time: 4PM – 8PM
Refreshments: Light snacks and tea were served
Click on the picture below see the picture gallery.
Ghanada Club
Following a proposal by author Siddhartha Ghosh, 'Ghanada Club' (also known as Ghonada Club) was formed in 1983 by teen science magazine 'Kishore Jnan Bijnan'. 
Sadly it did not survive for that long.
Ghanada Club was Reopened on Sep 15. Details are here.
We try to meet every 3 months or so to keep the memory of Ghanada alive within us. Please check the date and time of the next meeting on the main page of this website.
In 1980s many articles were published in many magazines about
Ghanada Club. Saurabh Datta collected many of them painstakingly.
Click here for old publications and our new agenda.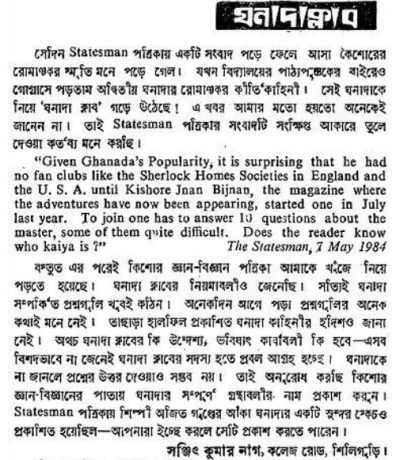 BOOKS
Ghanada (also known as Ghonada) is a fictional character based in Calcutta, known for his tall tales. The author of these stories is Premendra Mitra, a renowned Bengali short story writer, novelist and poet.
Ananda Publishers has released a complete collection of all Ghanada stories and novels in three parts entitled…
Ghanada Samagra 1 [ঘনাদা সমগ্র ১], Ghanada Samagra 2 [ঘনাদা সমগ্র ২] and Ghanada Samagra 3 [ঘনাদা সমগ্র ৩]
Most of these books are available at: Amazon.in
Mosha [মশা] (Mosquito), Poka [পোকা] (Insect), Nuri [নুড়ি] (Pebble), Kaanch [কাঁচ] (Glass), Machh [মাছ] (Fish), Tupi [টুপি](Cap), Chhori [ছড়ি] (Stick), Lattu [লাট্টু] (Top), Dada [দাদা] (Elder Brother), Futo [ফুটো] (Hole), Daant [দাঁত] (Tooth), Ghori [ঘড়ি] (Watch), Haans [হাঁস] (Swan),Suto [সুতো](Thread),  Dhil [ঢিল] (Stone), Chhunch [ছুঁচ] (Needle), Shisi [শিশি] (Bottle), Kencho [কেঁচো] (Earthworm), Maachi [মাছি] (Fly), Jal [জল] (Water), Chokh [চোখ] (Eye), Chhata [ছাতা](Umbrella), Ghanada Kulfi Khaan Na [ঘনাদা কুলফি খান না] (Ghanada Doesn't Eat Kulfi) and more…
Click here for more.
Audio Stories and DRAMAS
Update on Aug 18, 2019: Making of the first Audio Story (Not Drama) by our Ghanada Club (also known as Ghonada Club) is just finished. 
Ghanada YouTube Channel
for all Ghanada audio stories and other Ghanada videos.
Our goal is to produce audio stories of 60 or so Ghanadar Golpo over a period of a year or so. 
Two audio dramas were published in mid 1980's on audio cassettes. Shekhar Chatterjee's rasping voice brought our hero to life in a 1986 audio album. More…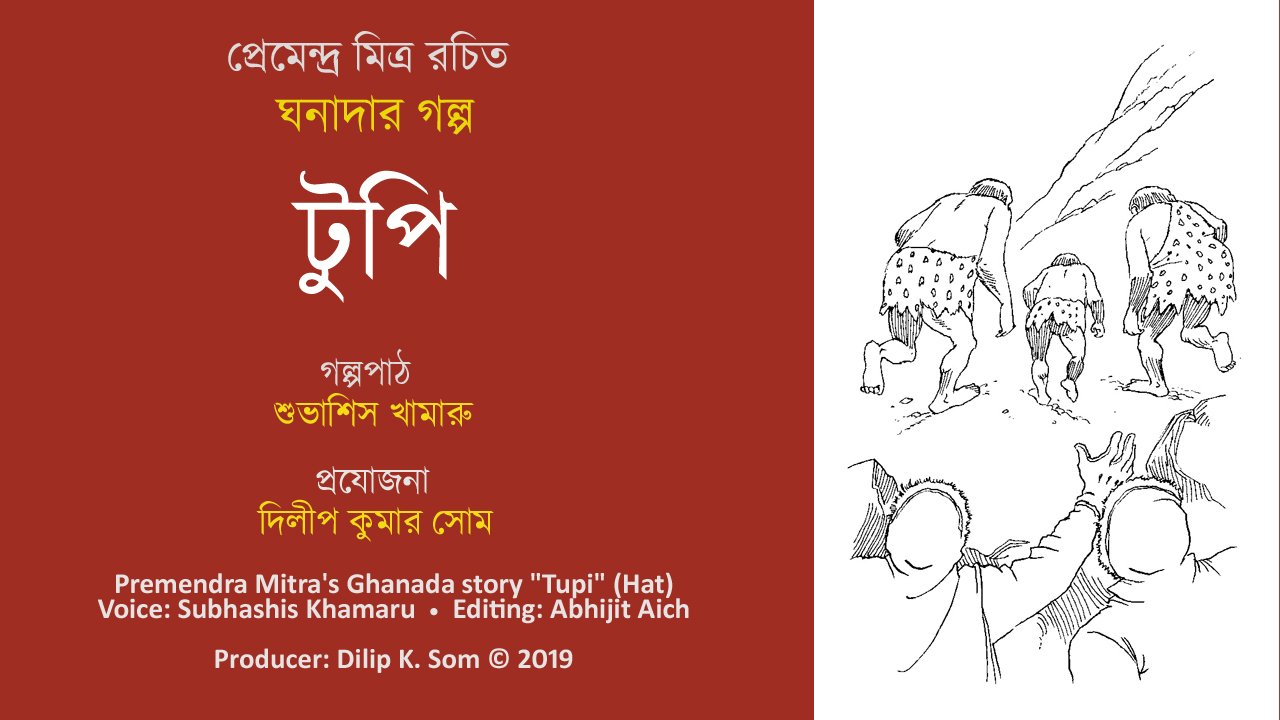 Ghanada Books in Translations
As of August 2019, we found only two books on Ghanada stories translated in English… 1) The adventures of Ghanada and 2) Mosquito and Other stories.
Two books are also translated in Hindi… 1) Ghanashyamda and 2) Ghanashyamda ka Aur Kissa.
We are planning to translate all Ghanada stories in English and publish them as books. Click here to get a taste of one of the 6 stories 'Poka' (The Insect) that we have already translated to publish as a book.
Click here for more.
Illustrations
'Ghanada Gallery'-s tribute to amazing artists who breathed graphic life into Ghanada (also known as Ghonada) through the years. The backstage talents we know so little about…
The most prominent artists:
Protul Chandra Bandyopadhyay (1903 – 1974)
Ajit Gupta (1928 – 2013) and
Rebati Bhushan Ghosh (1921-2007)
More than two dozen ace artists also gifted Ghanashyam their distinctive touches. 
Click here for more.
Interviews
A random selection of interviews with author Premendra Mitra concerning Ghanada (also known as Ghonada) ..
Visit this link for the oft-quoted interview in 'Span', 1974.
Click here for more interviews 
Comics (Graphic Novels)
At least five sets of Ghanada (also known as Ghonada) comic strips by Rebatibhushan, Phalguni (Dhruba Roy ?), Anil Karmakar / Goutam Karmakar, Ranjan Dutta, Shubhra Chakrabarty featured regularly in dailies, teen magazines & annuals. Not surprisingly, Ajit Gupta appears to have been the initial choice for the first set of Ghanada comics. Click here for more…

We are making an attempt to create Audio Visual Graphic Novel. Here is the first attempt.
Artist's Gallery
'Ghanada Gallery'-s tribute to amazing artists who breathed graphic life into Ghanada through the years. The backstage talents we know so little about …
Click here for more…